Would you like to receive an RCI quarterly newsletter with topics on programming hints and tips.

Do you find this site useful? If so please select here so others can find out about us.


If you enjoyed your visit to RCI, please
Client Login
Who is ResourceCAD International and what are they all about?

In its simplest form, ResourceCAD International is an alliance of CAD programmers and CAD users. It could also be called a Collective, a Coalition, a Quorum or a Society.

In essence, we are a group of like-minded individuals who have formed an alliance after finding a common bond. Over a period of several years communicating with each other regularly through several CAD forums, we found ourselves naturally migrating to the same areas and eventually formed our own web site. The web site was originally intended to have three functions: a repository for us to share code and ideas, a means to expand each other's knowledge and experience, and to communicate that knowledge to others while improving our own skills (and solve the occasional problem).

The logical progression of that venture is where we now find ourselves: ResourceCAD International. We quickly realized that we had a plethora of valuable knowledge in CAD, programming, visualization, networking and a whole host of other areas. Naturally, it followed that if we pooled that knowledge and resources, we could combine our effort to offer people viable solutions to their "challenges".


Our associates represent a variety of programming skills including Lisp, Vlisp, VBA, VB, and ActiveX, and a wealth of knowledge in varying fields covering the full spectrum of CAD disciplines. We also have associates extremely knowledgeable in Web Design, Animation, Rendering, Visualization, Databases.. in fact, pretty much anything which may be connected to CAD.

If you have a CAD related problem, we have the resources to find your solution.



---

Link to ResourceCAD International
Do you have a web site and want to add a link to RCI? We have now added several images you can use so Check Them Out.

---
Product Screenshots

Find N Load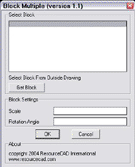 Block Multiple
You must be a member to download RCI software, but membership is free, and has additional benefits. Click here to register and become a member.
Visit our downloads section to get the latest copy of these programs and more